You are invited to join us on 11th, 12th, 18th and 19th of December and add your own design to the tin discs that will be part of a new clock tower with a public drinking fountain at Market Place
The design pays homage to the iconic clock tower that once stood on Peek Frean's biscuit factory and it will create a new recognisable landmark to the square.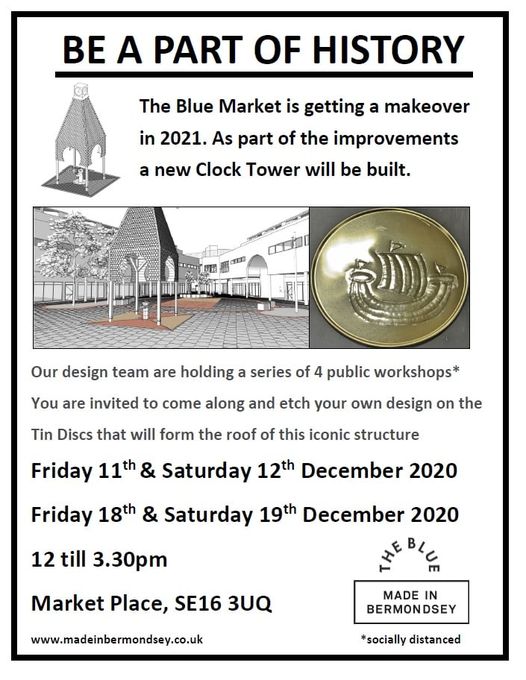 The Blue is Bermondsey's historic town centre and still plays an important part of everyday life for those who live, work, or visit but for the Blue to be once more the thriving centre of civic and commercial life that can better serve the local community it needed improvements.
The funding secured by the local community from the GLA for the regeneration project centres on improvements to the Market Place and will also include better physical connections to the Blue, enhancements to some community buildings, more greening and makeovers for independent shops.
---
The design proposals were developed by Assemble and architects Hayatsu through a wide range of activities from June 2019 to May 2020 working in close collaboration with partner groups and stakeholders. A public consultation period held from July to October 2019 helped shape the final designs which were unveiled at a special family event in Market Place.
The design team created a simulation of the revised proposals, this included marking out the positions of stalls and planters and erecting a full-scale mock-up of the new clock tower. The event attracted significant interest with the unusual and intriguing addition of the 'Castellers of London' building a human tower.
You can read more at www.madeinbermondsey.co.uk